---
The quote above pretty much sums it up for me, and is why I do what I do. If we begin to make adjustments as our bodies gently whispers to us, often the process is shorter and easier than if we wait.
Sometimes though, for whatever reason the body is already 'screaming' so to speak. This is also why I offer different 'services', to accommodate your needs and reasons for wanting to come to yoga therapy.
---
Common yoga therapy topics
Stress & energy management
Sleep issues
Burnout recovery (& prevention)
(Lower) Back pain
Digestive issues (incl IBS)
High blood pressure
Breathing pattern disorders
Chronic fatigue
Auto-immune disease
Peri/pre/post menopause
Recovering from covid
Click here for more examples
---
---
"Although all yoga is potentially therapeutic and healing, yoga therapy is the specific application of yogic tools—postures/exercises, breathwork, meditation techniques, and more—to address an individual's physical, mental, and emotional needs."

International Association of Yoga Therapists
---
How does yoga therapy work
Through our sessions you will learn about yourself & your body, so that you know how to self-regulate as needed in the 'ups & downs' of life. As early as our second session, you will start to see your body & health situation through the yoga therapy lens. 
My primary goal is to make you independent of me. That you will gain knowledge from me to feel both confident & skilled enough to continue the practice on your own, using the tools you've learnt.
How long this process takes depends on where you are when we start working together, how regularly we meet, and perhaps most importantly, how you begin adapting & implementing these tools into your everyday life.
---
It's valuable to have a conversation before starting to work together.
It is a way for us to get an idea of what is going on, and why you're interested in yoga therapy sessions. And for you, it is an opportunity to ask more specific questions that you might have about the process and how I work.
If we decide to work together, this is when we plan the date for our first session (the intake).
---
The yoga therapy process begins with a comprehensive understanding about your health & medical background. This will include what diseases, traumas and other life events that have been significant in your past. It is said that 'our issues are stuck in our tissues'…
Before the first session you will receive (by email) a questionnaire. We spend the first session talking about your answers, and initializing a plan.
What you share with me during the therapeutic yoga process is confidential.
---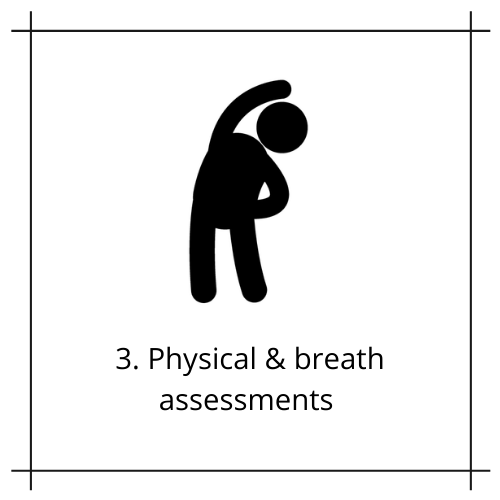 Based on what has come up during the intake you will be guided through movements to assess your physical body, the limitations, the imbalances and such. This is done in a safe and structured way.
As the way we breathe affects the whole body an assessment of your breathing patterns and potential conditions related to your breathing is also completed. After the assessments I summarize my observations and share my conclusions with you.
---
Once the first steps have been completed I tailor each session to target your imbalances, the goals & wishes you have expressed with what I have observed, resulting in a personalized therapeutic practice. After 3 to 5 sessions we evaluate the plan, and we look at the short & long term planning.
At the beginning of every session I will ask if there is anything specific you need or want to focus on. The sessions finish with relaxation, and then a recap of the practice together with suggestions to do on your own.
What we do during the sessions will help you feel better. However, the lasting change and impact of the techniques will depend greatly on how you implement these practices & tools in your everyday life and the changes you choose to make in your lifestyle.
---
"If you think wellness is expensive, then try illness."
---
What is the price for yoga therapy
The rate per session is 80 € including VAT.
There are packages available of five or ten sessions.
A yoga therapy session is 75-90 minutes long.
Price updated per July 1, 2022.
Packages bought and paid for are valid for 12 months.
---
---
FAQ
what is yoga therapy
Yoga therapy is a way to bring more health & wellbeing into your life, regardless of your current situation. Yoga therapy is not the same as a traditional yoga class. The training and the 'scope of practice' of a certified yoga therapist is significantly different than that of a yoga teacher.
In yoga therapy we use yogic tools, such as physical yoga postures, breathing techniques, relaxation and meditation to work with & improve physical & mental health. Yoga therapy is not meant to take the place of traditional medicine it is a complimentary practice.
what to expect from yoga therapy
When working together, I listen to your whole story, the symptoms that you are experiencing, and the goals that you have. Each session is fully tailored to you to support you on your way towards more health & wellbeing.
Homework is often an important element of yoga therapy. The practices done during the sessions become much more powerful and effective if & when they become part of your daily life.
You are naturally free to continue with other forms of treatment while engaging in the yoga therapy program. If you are currently under treatment with another healthcare provider that too becomes part of the story and something we work with.
for whom is yoga therapy suitable
Everyone is a good candidate for yoga therapy, even if you're not currently battling a health condition. Yoga therapy is a way to take ownership of your own health & wellness.
People with specific health concerns, who want to learn tools for their health condition to improve wellness.
People who wish to generally improve their health. Yoga therapy gives you tools to increase body awareness and support the health of your body.
And lastly for those who are looking for a safe & beneficial way to exercise. When done correctly, yoga is an excellent way to stay or become fit. Individual sessions can be an important and valuable part of regular yoga classes making sure you get the most from the practice.
How many sessions do I need
No two clients are the same, so saying what is a 'normal amount of sessions' is rather difficult. It depends of your current health situation and your goals. 2-4 months will often provide you with enough tools to feel empowered to continue working on your own. For some clients the process is shorter, for some longer.
In the beginning we most like meet every, or every second week, and then it often becomes less frequent, to eventually come to a stop.
---
"Many have lost their health, trying to earn all money; and then lost all their money, trying to regain their health."
---
Feedback from clients
"Before we started the sessions I really didn't have that many expectations. After reading the information on your website yoga therapy seemed like one of a few good options to try in order to heal a bit more. And luckily it was/is!

The custom made sessions were very helpful as I learned to work with limitations regarding my condition and worked on gradually building muscle/strength. I would say a 10!"
-J.T
---
"Yoga therapy for me, was a very healing experience. And has given me the tools to get to know myself and my body a little bit better. As a result, I feel a lot better, and my back complaints and IBS are much more manageable."
-C.H
---
"Didn't know what to expect, but I feel its a worthy addition to the purely medical treatment. This is because I felt taken seriously, and it gave me much more awareness of how systems in the body are (inter)connected and how to work on relaxing basically. Sounds simple but it's not, also something I took away from the therapy.

To add, thank you for going 'the extra mile' when sending over recommendations or podcasts that you thought relevant, much appreciated."
-L.B
---
"Camilla has a lot of knowledge about the human body and always knows how to do a specific movement in a different way in case you cannot do it in one way.

She makes you see assumptions or expectations you might have concerning your own body and how your could treat it differently."
-A.B
---
"During the sessions we had really good talks about how body and mind are connected, and how your body can be hurting because of emotional weight that you carry around, It was very good for me to talk about some things that I was carrying around emotionally, and to talk about my bodily issues, without any judgement, in a very safe space.

It was also very nice when you covered me up in blankets, like a little mummy, with the last resting pose."
-C.H
---